Eula Valdez on "A Hope More Powerful Than the Sea"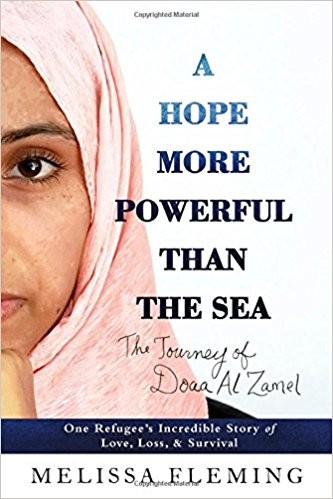 To have the ship you are riding on be targeted and broken down is one thing. To witness your husband and most of the passengers drown is another. A Hope More Powerful Than the Sea is an eye-opening book that taught me the true and deep meaning of the word privilege. In our lives today, it is easy for us to find ourselves always wanting the newest phone, sneakers, bag, or any other superficial thing that we forget there are others in our world today who are craving for food, shelter, and freedom. Doaa Al Zamel was one of them. I have been aware before that there were (or are) some refugees who were trying to escape their home country to save their lives. I am sure many others were aware of this as well. The problem, though, is that even if we were aware of it happening, we did not know how it was happening, thus leading some of us to a lack of empathy. This book allowed me to see the life of someone who experienced all of it—from living a normal life to being able to only buy food at a certain time of the day to transporting to numerous ships in the Mediterranean. The pages were filled with stories of horror and unexpected news. Although most of the pages were disheartening, there were also some that put a smile to my face, which included a man in Egypt quartering the Al Zamel family during the winter season for free, Doaa's marriage to Bassem, and the survival of Masa, one of the children given to Doaa.
The most surprising thing in the story that shocked me was how recent Doaa's story was. It was only a few years ago. You would think that the days of people trying to escape persecution and misery from an egotistical "leader" would be over, or at least lessened, but that's not always the case. Another thing that adds to the surprise was finding out that Doaa was around the same age as me when she had her experience—a teenager. It was unfair for Doaa and all others—especially the children—to have endured what was given to them by their government.
A Hope More Powerful Than the Sea is a book that should be read by all those who believe that refugees should not be welcome in our country. Most of the people who are not in favor of refugees are the ones who usually don't know their stories. They lived lives of privileges that they forget there are others who don't have the same advantages they do.