The Price of Safety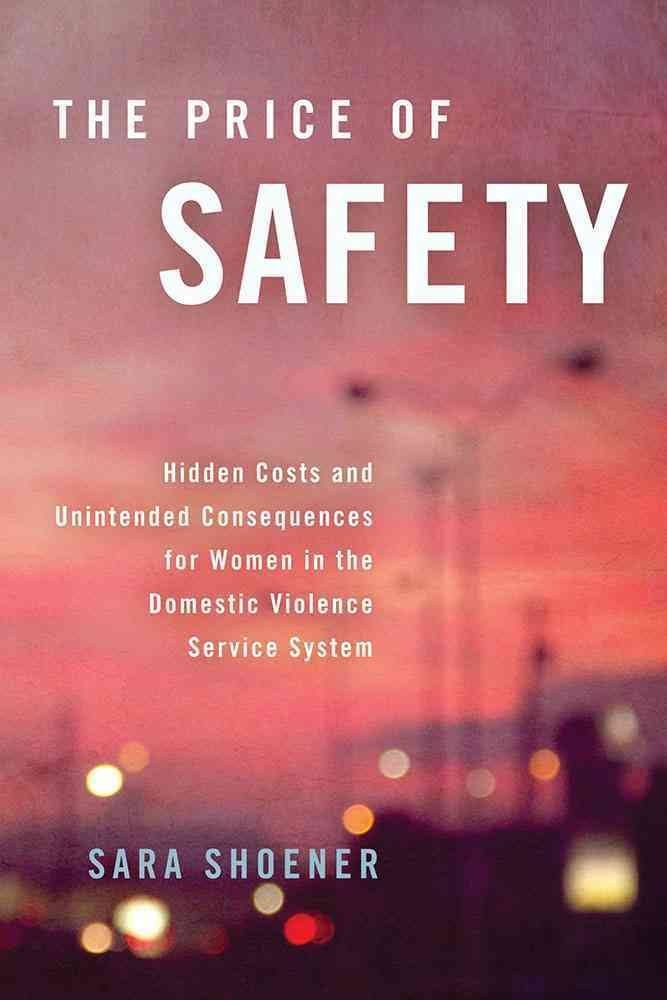 The Price of Safety: Hidden Costs and Unintended Consequences for Women in the Domestic Violence Service System
By Sara Shoener
Vanderbilt University Press, $39
Book Report written by Dina Rama and Sarah Trieu
Since the rise of Ancient Rome when women were perceived as "children, forever inferior to men", women have consistently experienced various forms of physical and psychological abuse throughout history. Nevertheless, domestic abuse in the twentieth century has targeted not only women, but men and members of the LGBT community as well. In other words, the growing number of IPV victims has reinforced the urgency for there to be an examination of the efficacy of the resources that currently exist for IPV victims.
Although it is evident that domestic abuse is indisputably an emotionally uncomfortable and painful topic to openly discuss about, Sara Shoener, Research Director at the Center for Survivor Agency and Justice, approaches the topic of Intimate Partner Violence in a different and effective manner. In Shoener's The Price of Safety: Hidden Costs and Unintended Consequences for Women in the Domestic Violence Service System, she goes into great detail on the specialized public resources available for victims and survivors of domestic violence. She discusses the wide variety of protection services varying from protection order courts to a vast network of community-based emergency shelters and counseling services.
Throughout the book, she investigates and discusses the extent to how successful these resources have been in helping victims and reducing the number of intimate partner violence cases. In doing so, she provides a diverse set of multiple accounts on the experiences of IPV survivors within different communities in the United States. Schoener effectively utilizes every account of an IPV survivor in drawing attention towards the ineffective and harmful systems that are in placed for IPV survivors who have the least capital to spare. The vividness of each account greatly emphasizes on how IPV has had long-term economic and social consequences on women, disrupting career paths and creating social isolation.
Shoener undoubtedly transforms the book into a conversation to not only those suffering from IPV, but to the younger generations in educating the youth on the importance of identifying what a healthy and unhealthy relationship looks like. As high school seniors, Sarah and I realized the lack of resources currently in place for teenagers to ask questions and receive advice from a trusted adult. In comparison to other books we had read in the past concerning domestic violence, Shoener deliberately constructs the book in such a way that readers aren't overwhelmed with extensive factual information and statistics. As a result, we were drawn into the personal accounts of IPV victims and realized how every domestic violence case was different from the next.
We especially admired how Shoener provided solutions for each of the victims she had interviewed. However, we did hope there would be more personal accounts of men, those who identify as bisexual, members of the LGBT community etc. And although most of the personal accounts were of women, this book inspired us to conduct more research on domestic violence to bring attention to these groups in our podcasts.
This book will forever remind us to always be cognizant of our actions to create the society we want to live in.
---
Hello! My name is Dina Rama and I'm a senior at the NYC iSchool, located in Lower Manhattan. I'm seventeen years old and I enjoy traveling, reading, playing sports, and cooking ethnic cuisines. I live in Inwood, Manhattan, near Columbia University's Baker Athletics Complex. Moreover, I'm a proud owner of a border collie-german shepherd mix rescue and his name is Dzoni (pronounced Johnny in English). I can speak five languages other than English, including Montenegrin, Serbian, Croatian, Macedonian, Bosnian, and a little bit of Albanian.
I belong to parents from an underpopulated, poverty-stricken country in Europe; hence, domestic violence was always prevalent where my parents grew up. The law enforcement within Montenegro was controlled by those with more money, instead of those who wanted to protect the rights of citizens. In other words, corruption and disorder permitted the abuse of women to happen. As a bystander of such abuse, I knew I had to educate myself more on the topic of Intimate Partner Violence and how it could be prevented.
After Reading Sara Shoener's book and learning about the various protection services and resources that are available to IPV victims, I was inspired to talk to my family and community members in Montenegro and Kosovo. I never knew how important it was to be involved within your community until I was accepted into the Freedom and Citizenship Program. I will be attending Columbia University in the fall of 2019, and double majoring in business management and financial economics. I hope to take a diverse courseload at Columbia to continue exploring relevant content in relation to its real word applications within our society.
I will forever be grateful for the opportunity I was given to work with an amazing group of intellectually curious scholars by Freedom and Citizenship.
---
Sarah Trieu is currently a senior at Notre Dame School. She will be starting as a first year at Barnard College in the fall of 2019.